<![if !vml]>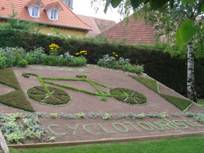 <![endif]> Semaine Federale Internationale de Cyclotourisme
The Paytonís spent their summer hols in France again this year attending the Semaine Federale de Cyclotourisme.
<![if !vml]>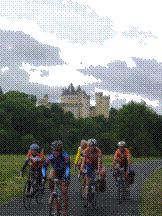 <![endif]> This yearís event was held in Chateauroux, in the LíIndre region with 12í000 participants. For those who have not heard of the event, itís a fabulous experience. The FFCT is the organizing body and basically itís the equivalent of the CTCís Birthday rides but on a grand scale. Camping facilities are basic but clean and adequate.
<![if !vml]>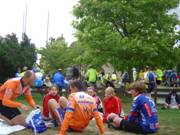 <![endif]> †They say there are about 10,000 riders out on the road each day. Everyone is provided with a route map and flechage are pasted onto the roads. There are 4 routes each day varying from 50k to 200k. We were chuffed with the 680k we managed during the week taking in some beautiful scenery and Chateaux. On route there are Accueils where you are entertained and can get refreshment. In the middle of the week there is the Pique-Nique, a very large scale affair where everyone is fed. We arrived back at the Permenance each afternoon to a hub-bub of activity, a huge trade show and various other animations de la region-live music and things! And meals if you wanted them.
<![if !vml]>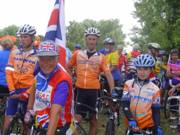 <![endif]> The finale was the farewell parade on the last day with the various regions dressed in traditional costume and the streets of the town lined five deep with the locals bidding us au revoir. They certainly had made us welcome with the whole town being involved throughout the week.
<![if !vml]>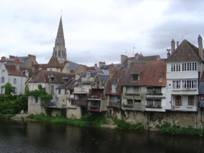 <![endif]> We have attended seven of these events over the years and if anyone is interested we have the details of next yearís event in Perigueux.