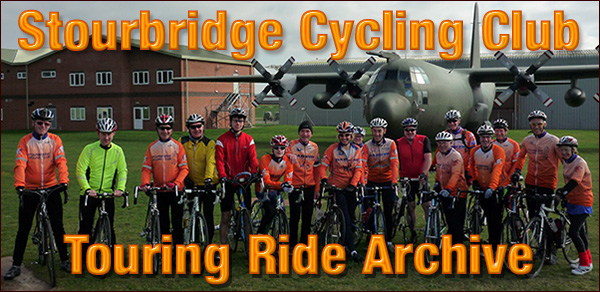 Blowing off the Cobwebs
The 12 Days of Christmas Are Over. Last ridden 6th January 2013 [Ride Leader: Kieron McMahon] The aim of this exhilarating ride was to blow off some of the cobwebs and, appropriately enough, visited the Spider's Web café at Cosford. So some festive excess came off and perhaps a little bit put back on with a doorstep butty. Some touring riders didn't quite get the concept and found the route a little on the tough side. However, the secretary was having none of it – this was a bit of a work out for the section.
There was some festive flab in evidence on the start line and much flabbergasted faces as the ride leader found 2,455ft of climbing on relatively easy territory. The weather was 12 degrees milder than the same date in 2012 and the lanes were relatively clean. Consequently, riders enjoyed quiet roads through Swindon, Claverley, Worfield, Badger, Ryton, Kemberton and Shifnal before stopping for refreshments after 32 miles. We were amazed to see that somebody had left £4k's worth of Dedacciai Assoluto unlocked outside the café. Naughty Barry Wheeler had to sit in the corner for taking a short cut – he'd chomped through his breakfast before the rest arrived for their nosebag. The repeat offender even took a short cut back to Stourbridge! The homeward journey for the rest passed through Shackerley, County Lane, Pattingham, Trysull, Giggety, Wall Heath and Bromley before finishing at the Rose and Crown in Brierley Hill for a few glasses of Holden's Golden Glow. Total ride distance was 53.07 miles.