Reliability Ride 2020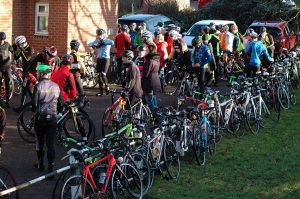 26th January 2020
Note the headquarters:
Start point:
Worfield Village Hall
Worfield, Bridgnorth
WV15 5NS

44 miles
4 groups: touring speed – 0845, moderate – 0900, moderate/fast 0915, A (scratch) 0930.
If there are several riders in any particular group, it may be split to reduce the size of the peloton.
Entry fee £5, all entries on the day, no advance entry needed. However, Stourbridge CC members can enter in advance at the clubroom on any Monday leading up to the event.
Car parking available for approximately 30 vehicles. In the event of the car park filling up, there will be room on the road outside but please be considerate to the villagers.
Riders under the age of 18 must wear a hard-shell helmet and provide a signed British Cycling parental consent form.
A refreshment stop can be taken in Bewdley to the left of the bridge.
It is advisable for every rider to carry a spare inner tube, basic tools, a pump, id and mobile 'phone and to wear adequate clothing for the conditions on the day.
The route will also be signed.
Organiser: Roger Allen