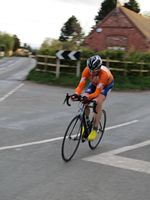 These are based on the K21/5 course starting near to "Blakelands" restaurant at Halfpenny Green/ Bobbington.
The event on 25th July will be the 11-mile circuit based on Six Ashes.
2017:Dates are as follows:
25th April, 9th May, 6th June, 4th July, 25th July
Start 7pm
£3 entry fee
The first 25 rides will be for SCC members, thereafter any other riders turning up. Note: the first event in April we will restrict numbers to the first 35 because of failing light.