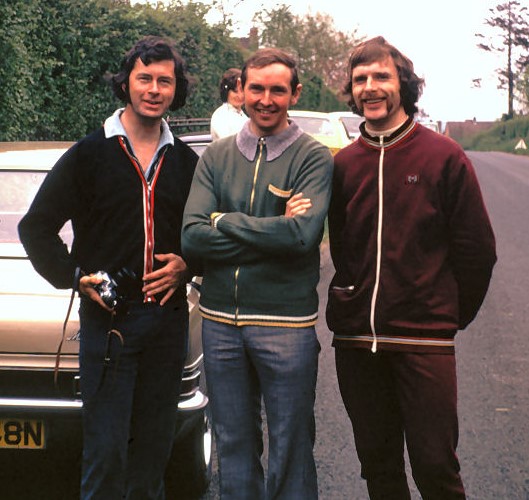 Les Archer was one of the most influential members of Stourbridge CC. He was a accomplished racing man, top organiser of events, a great ambassador and mentor for many cyclists. Les passed away on 6th August 2020 after a deteriorating illness and below are some of the comments from his friends and aquaintances.
Ian & Su Dalziel
I first met Les when I came back to cycling at the age of 37 and joined the Stourbridge CC in January 1978. After the initial 'baptism of fire' winter training rides, I regularly rode the Tuesday evening 'Hagley bash' with him and then he gave me the confidence to enter my first road race – an ambition which I had long given up on. Also, when Su started cycling, we would often join Les, June Pitchford and John Cooper on a more sociable Thursday morning club run.
Les was the MC for the Club's annual 'International Cabaret and Pantomime', an event so popular with other local cycling clubs, that tickets sold for high prices on the black market. His excellent compering abilities always ensured that the event ran smoothly and hilariously.
The last time I rode with Les was on the Shobdon W/E, and although he was almost 80, he still gave us a hard time during the day and enthusiastically joined in with the eating, drinking and repartee in the evening. He was an excellent raconteur and I especially liked his stories, complete with accents, about his customers when he had the gas-fire shop in Bilston.
Goodbye Les, you will be missed.
Our condolences to Pat, Alison and Nick.
Tony May
Les was one of the people who made me very welcome when I joined the club in the early 80's and was obviously a great driving force. Although I moved away a short time afterwards it was always a great pleasure to see him, and Nick, again over the years at the races that he organised and helped at.
My condolences to his family.
Roger Austin
My everlasting memory of Les goes back to 1985 and his 50th birthday.
A group of us including ( I think!) Brian Homer, Chris Jeavons and definitely Jeavo were in Majorca for a week's cycling that coincided with Les's milestone.
After a few drinks the night before and unbeknown to Les we persuaded the hotel chef to bake a cake in his honour.
Next night we sat Les with his back to the kitchen and at the end of the meal the chef secretly wheeled in a cake complete with candles and the Inscription 'Happy birthday El Presidente – Cyclista'.
To round the night off, an opera singer, who happened to be staying in the same hotel, serenaded Les with 'Happy Birthday'.
We saw the night off with red wine, of course.
A gentleman and good friend – thanks Les.
Bruce Mantom
"Bottom right myself and Les. This is the earliest picture I have of Les. We were about to set out on a tour from my in-laws at Appleby in Westmoreland. Along the Wall to Otterburn, then to Banburough , into Scotland, Cheviots and dodging the earth movers building the Kielder Dam, 1975. Not a day under 100 miles and hardly a flat bit. On the evening we visited the Rhone, Burgundy and Beaujolais. Happy days and great memories. Bruce."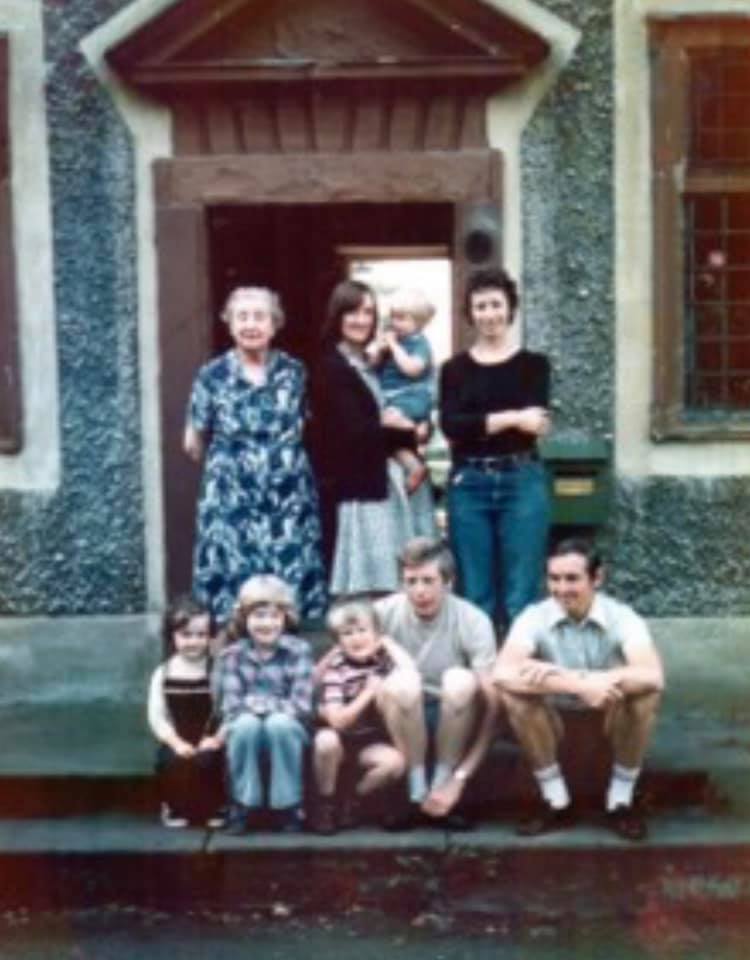 Pat & Keith Green
Les will be missed by many. Our happy memories of Les span many years and he had a hand in our love for cycling, which we still have today. I still hear his encouraging voice beside me as I climb up Pattingham Hill.
Keith and I would like to send our condolences to his family.
R.I.P Les
Roger Iddles
Have known Les for getting on for 60 years and for the last 45 years spent many hours together , training, racing, socialising and having the odd glass of wine or two together. We rode thousands of miles together, me always on the inside and Les on the outside, we always rode this way right up to when he stopped riding.
We also won many two-up time trials together against some of the best riders in the country. Les was not only a friend but a mentor to me when I was racing seriously, he always had time to give me encouragement before, during and after races.
There are so many memories, like the great parties and the group of us who went out on New Years Eve for several years, don't think many of us can remember getting home in the early hours of New Years Day !
Les, my old mate, you will be missed R.I.P.
Bruce Gilbert
When I joined the Stourbridge CC I was completely new to cycling but I remember the friendliness and help I received from all the members, but particularly from Les who was happy to help a new member in any way he could.
We touring cyclists would always willingly marshal when Les organised a race which was a tribute to his leadership and skills of persuasion.
I remember too so many International Cabaret evenings of sustained hilarity with Les acting as the urbane host.

He and Pat have a wonderful family and Nina and I send our deepest sympathies to them all.
Bruce Jones
Sad news about Les. These are my thoughts on him from my first days as a club cyclist.
I joined Stourbridge CC in 1972 after watching the Munich Olympics with Phil Bayton riding. In late 1972, Les took me and his son Nick to watch my first competitive event which was a cross at Malvern Links. Won by Roger Page.Les looked after me as if he were my 'cycling dad'. He filed the frame ends of my Carlton Criterium to get my new Campag Nuovo Tipo wheels to fit that I had purchased from Henry Burtons and gave me tubs to fit on the wheels. I went on many Stourbridge club runs with Les (+ Roger Mantom, Bruce Mantom, Brian Hedges) and one Sunday I had a severe dose of the bonk/knock as we approached Malvern. The club decided to have a sit down meal at a Chinese restaurant to recover as it was bitter cold. I had little money and Les paid my bill.
At this time Les was not racing due to work commitments but commentated very professionally each week at the West Smethwick Park crit series.
When I first saw Les on a bike he looked great. He had an orange Falcon, Campag Bar End Controls, chrome front forks and his pedalling style looked class. Les would trust me to take Nick (also riding a 24 inch wheel orange Falcon) to watch the Black Hill Crits each week. Les was a true professional. A great ambassador for Cycling and a Top Bloke
Sincere condolences to Pat, Nick and Alison.
Phil Clements
Sorry to hear this. Many happy times to look back on. My sympathies to relatives and friends.
Alan Jones
Les was an ambassador for Stourbridge cc . He was a true gentleman that supported and encourt every member. I talked myself into a lottery ten with Les (first ride of season names out of hat ,it was fixed for me to ride with Les ) He pulled me all the way round ..I couldn't talk for hours after my wife had to order the beer .Les was and will always have a portion of my heart ..
Lisa Rees
So sorry to hear the news of Les Archer. My father and brother (Mike Rees and Andrew Rees ) we're members of SCC. My mother (Sue Rees) did the teas and bread pudding on the Wednesday night 10's night.Fond memories of Les and His Family. My condolences to the Family.
Stuart Keightley
Sad to hear that. He welcomed me to the club when I was a member and remembered my dads uncle Fred "Percy"Pardoe racing for the club in the old days.
Jon Allen
Truly a sad day for Stourbridge cycling club and of course everyone who knew him, our condolences to the families
Lezley Moran
So, so sad, remember Les well from around the TT circuit, my condolences to his family
Mary Mantom
He was our Dad's best man and lifelong friend. Saw him at the Christmas do and spent some time showing him old photos of him and Dad.
Bob Mantom
here is Les at mum n dads wedding with Bruce Mantom far left at the back. I know how much Les meant to Dad and remember his name being on lots of trophies too. Glad we got to see him at the Xmas do last year.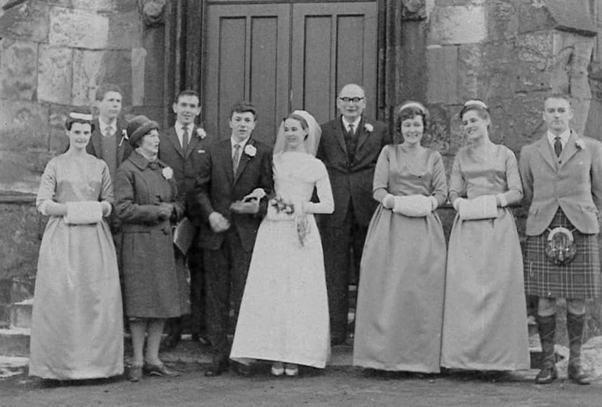 Garry Edwards
a sad loss, Les was the perfect gent. West Mids cyclists in particular will remember Les for his commentaries at races around the area. A real gent who gave untold hours of his time to cycling, he will be sadly missed, our thought s are with his family and friends.
Margaret Susan Thompson
Very sad to hear of Les's passing and know he has not been well for some time. To me, he was 'Mr Stourbridge Cycling Club'; he lived and breathed cycling. I saw him last at the Christmas lunch last year, little knowing that it would the last time I would see him. Sending my sympathies to the family.
Pete Lucas
Very sad to read this, my sympathies to his relatives and friends.
Joseph Rowe
Les was a lovely man, friendly and welcoming and a great race organiser, one in a million!!
Maurice Bennett
Gentleman Les always had a kind word, sadly missed.
Paul Millard
Sorry for your loss
Chris Edwards
RIP Les.
Robert Nixon
Sad news, a real gent. Rip Les

Nipper Thomas
RIP Les
Tim Crumpton
What a lovely guy..As you say Les Archer gave a lot of his time and effort supporting the sport. I saw him on the finish area at an LVRC Abberlys race only a couple of years ago and shook his hand… Bless him always

Chris Kent
Very sad news indeed & although I haven't seen him in many years I have many fond memories of him!
R.I.P. LES
Mike Armstrong
Sad news real nice gentleman who loved the sport RIP Les

Paul Standen
I have many happy memories of my time in Stourbridge CC. Very sad news. My thoughts go out to his family.
Chris Poole
Sad news a real gent who love our sport RIP Les
Richard Hill
Not sure I ever met him but RIP Les
John Fredo
Les was really a great guy so sorry to hear this news thought are with his family he will be sadly missed by many

Ged Dennis
sad news,proper cyclist,had a gas shop in Bilston for years,rip
John Poole
Very sad news , a real gentleman , condolences to his family and friends .

Duncan Walsh
Very sad news-Les was a real stalwart of the West Midlands scene.will be sorely missed-RIP -Les.

Terry Harradine
Very sad news, Les was a true gent, and alway's had time for a chat.. RIP Les.
Gary Smith
Sad news, a true ambassador for our lovely sport. RIP Les

Mark Davis
Very sad news RIP
Joseph Rowe
Sad news, top man and a really friendly, intelligent bloke!
Bob Richards
Sad to hear the news.Les always encouraging, a real Gent.
Les West
Sorry to hear about Les, lovely man did a lot for our sport. RIP.

David Folkes
Have known Les since 1967 when I joined Stourbridge CC . Always a racing cyclist at heart , even on weekends away . This was taken on 5 years ago on such a ride to Ludlow . RIP Les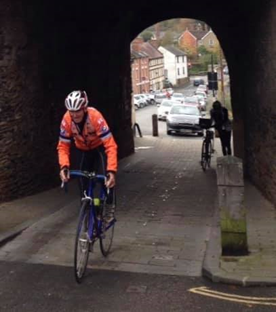 Neilson Corlett
Top man! R.I.P. Les
Nick Yarworth
This is sad news indeed, as has already been said just an absolute Gentleman. Very fond memories going back many years. Thoughts with the family at this time.

Chris Cole
Very sad news. Rip
Michael John Edgeworth
Sad a great guy who i always had a good chat with sadly most my old friends gone r i p les!
Nick Selibas
Sad news true gent RIP Les
Garry Sutton
A great bloke RIP

Chris Cole
Spoke to my parents Peter and Sonia Cole, and let them know. They sent condolences.
MarjDave Fear
My cousin was in the North Worcesters in the days when they had such big hitters as Gordon Gould, Jeff Sanders and Les so I met him there. Thought he was a real gent – and damn good rider . RIP

Ian Noons
Lovely gent sad news
Allan Ball
Sorry to hear the sad news about Les another unsung hero of our sport. Rip Les from all at Birchfield CC.
Roger Allen
Les was a top gent, great rider, organiser of many races including the National road race in Dudley, twice, I think. A great sense of humour too, some good memories which will never be forgotten. I last saw him riding Into his street about four years ago, it was probably one of his last rides and it looked as though he was made to fit a bike. Perfect position, even at those advanced years he still looked good.

A few years ago Les joined us on our 8.30 ride, which was the faster of the clubrides. We left Stourbridge at warp speed, heading for Cleobury. It was eyeballs out all the way, we climbed Farlowe, at the side of the Clees, where there is a very steep hill and a hairpin bend. Les couldn't keep the pedals turning and fell off but still remained in good humour, making quips about the severe route. At Cleobury he staged a collapse with fatigue and commented "are all your rides like this?" I'm pretty sure everybody was showing off as we were in such exalted company because the speed was much higher than usual!
Darren Willetts
Sad news, Les was a great bloke. RIP
David Bond
So sorry to see this sad news. Les was truly a nice bloke who always had a smile on his face. I'm sure a lot of us would not have had so many good times without his hard work. Never to be forgotten. RIP Les
Lynney Biddulph
Ahhh how sad xx sending condolences to his family xx
Stefan Pearce
Sad news – lovely chap and put some great events on
Howard Jones
RIP Les top man and a great inspiration to us all Great race organiser my condolences to his family
Bob Pinkerton
Another from the old gang gone! Top bloke, done a lot for our sport back in the day. Rest in Peace Les.
Martin Hackley
Echo all the other comments, didnt know him well but always spoke in a motivational manner and seemed to be in attendance at most of the events in the Stourbridge area, one of the sports backbones he will be missed for sure.
Fred Browning
Very Sad,RIP Les
Tim Wood
Very sad to hear
John Blackwell
I met Les in the 70's he did loads of commentaries for me and was one of the nicest guy's in our sport RIP
Simon Edney
A really kind gentleman, lovely memories of meeting him at races. Rest in peace Les

Will Moore
Sad news. Lovely chap
Dave Hale
Sad news
Phil Sherwood
Sad news today, a regular in my shop on Chawn Park, always motivated and positive – he will be missed" a really nice guy"
Peter Quaife
I don't recall ever talking to him, but I rode endless events he organised. We wouldn't have much of a sport without guys like him. RIP
Robert Morris
So sorry to hear this, great guy always friendly RIP Les
Javid Davies
A true gentleman, only men like him keep our sport alive.
Michael John Edgeworth
A great guy had many chats with Les lovely man r.i.p