Why join Stourbridge Cycling Club?
Stourbridge Cycling Club will welcome anybody who wishes to follow cycling as a sport or pastime, whether competitively or simply for pleasure. Whether you are young, middle aged or retired, there should be a ride to suit you, we hold rides on most days of the week and a selection at weekends.
Cycling can be a tough sport or pastime but you can choose which level to ride at, from the off-road Saturday ride, Sunday touring ride to hard, aggressive, gruelling days out with the fitter groups.
You can try us out with three rides before we ask you to join.
Follow this link to  download a membership form and email it to our membership secretary.  For more information, e-mail the Membership Secretary.
Am I good enough to join?

Joining Stourbridge Cycling Club isn't a competition. If you want to test yourself, join us and start with a few beginners' rides. Otherwise, don't worry about what level you are at, enthusiasm is the most important thing. Many members don't race, they want to do the  club runs, meet other like-minded people and just talk cycling.

Can I just come along and ride?
Yes, you can try us out with three rides before we ask you to join.
Do I have to have a racing bike and all the kit?
No. Enthusiasm for cycling is the most important thing. Some members do have flashy bikes but the truth is they don't help you ride that much faster when you're a beginner. For the club runs, a suitable bike should be used.  We recommend you ride with a helmet and bring a spare inner tube in case of a puncture. Please see,
Preparation for a Ride
"
Do I have to live in Stourbridge?

No. We have members from all over the Black Country, and farther afield
How many women are members?
We have a good number of female members. Like everyone else they are involved in all forms of the sport, from riding the odd club run to regular racing and representing Great Britain. But the ratio is far from 50-50, so we'd like a lot more women, so you'll be welcome if you join.
When are the club runs?
We run a variety of rides throughout the week. There is a choice of both 3 off-road and 4 road rides on a Saturday, and up to 2 road rides on a Sunday, allowing people to choose a ride suited to their ability and have an enjoyable day out that is within their limits.
There are also a selection of rides midweek.
What is the age range of members?
We have members from 14 to over 80. We do accept membership if you're under 18, you get a junior rate.
So, how do I become a member then?
Follow this link to
download a membership form
and post it with your fee to our membership secretary.  For more information, e-mail
the Membership Secretary
.
Memberships run for one year from January 1st, you can join at any time during the year, joiners between 1st October and 31st December get membership until the end of the following year. Joiners between June 30th and September 30th get 1/2 price membership.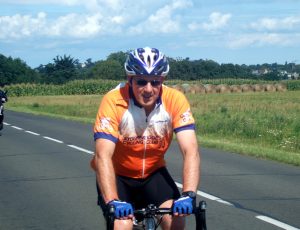 Stourbridge CC membership benefits, you can:
Join in any of our cycling activities.
Purchase and wear club clothing.
Compete in races under our name. (note: British Cycling events, road races, cyclo-cross, track events and some mountain bike events require BC membership and licence in addition).
Your first year's membership to British Cycling free (worth £24 – T&Cs available on British Cycling Website)
Access to the Club's Tool Library
Gain from companionship, people to ride with.
Have an influence in the way the club is managed.
Please be aware that Stourbridge Cycling Club membership does not include any kind of insurance, 3rd party or otherwise. We always recommend our members should join either Cycling UK or British Cycling (Silver or Gold membership), to gain their insurance and legal aid. As we are an affiliated Cycling UK club you can get insurance at a reduced rate with Cycling UK but that does not include legal aid, only full Cycling UK membership provides that.
Membership Type:
Family – Couple and Under 16′s £30.00
Youth – Under 16 on 1st Jan, £4.00
Junior – Under 18 on 1st Jan, £12.00
Adult – 18 or over on 1st Jan, £18.00
You can also come along to our weekly club meetings, held at 8pm on a Monday night at The Roy Archer Room, Oakfield Community Centre, Brettell Lane, Amblecote and join that way!
Our achievements in 2019:
Approximately 7 new members per month – these are people new to either cycling or club life.
A new record membership of 301.
A diverse range of rides, suited for many different abilities.
6 qualified coaches
At least 2 club rides per weekend day.
Social events.
A very successful season of racing in all disciplines.
Many organised rides: off-road rides internally organised, Audaxes, Sportives, charity rides, all advertised on Facebook.
Huge club turnouts at numerous events.
Summer coaching sessions
A winter programme of cyclo-cross training
A successful cyclo-cross event.
A successful road race
A successful circuit race
Winter and summer evening training rides