MAGGIE INTERVIEWS: Louise Robinson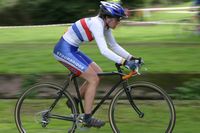 1. Did you come from cycling families?
I do come from a cycling family. My Nana and Gran (grandad) on my Mum's side were cyclists. My Gran was an official time keeper as well. My Mum and her sister took up the sport and became known as 'the Fearnley sisters' with the 'short shorts'! Both my Mum and her sister (my Auntie) met their husbands through cycling. My uncle was a BBAR champ at some point and my Dad, Brian Robinson was, as most of you are probably aware took himself off to France to carve out a career in the professional peloton and with some success. This was all before my time, although my Mum spent a few years living in a caravan in the South of France with my brother and sister while my Dad was off racing.
2. At what age did you start cycling?
I took up cycling late in life when I was 26. I had had a bike as a kid and messed around on it, but never even thought of doing it seriously. I suppose the opportunity never arose other wise things might have been different.
3. What was it that made you want to pursue cycling and not take up another sport or interest?
I was into running as a child and teenager. I was a member of a club and had some National success. It seems funny now, but the longest distance a senior women was allowed run on the track was 1500m back then. I was actually better suited to cross country running, and that is where I achieved my best results. I stopped running when I was about 18 and did nothing for 7 years. I took myself off traveling round the world when I was 23 and stayed out for 18 months. I actually bought a bike in America (a Raleigh) to get around on along with racks and panniers. I ended up taking the bike with me to Tahiti, New Zealand and Australia. I didn't ride much in Oz and sent the bike home where it was waiting for me. I did a bit of mountain biking and eventually joined the Ravensthorpe CC. My first club run was 114 miles into the Yorkshire Dales, and as seems a regular story, I got left to my own devices when I blew my doors off and had to grovel home where my Mum had to help me off my bike and ply me with sweet tea and biscuits while I lay on the drive. Surprisingly I went on the club run again the week after, although anybody in their right mind would have been put off I think.
4. When did you start cycling competitively?
My first cycle race was a Mountain bike stage race called the Boltby Bash in North Yorkshire. I had been talked into doing it by a couple I met while on holiday in Cyprus over the New Year 2003. I entered not knowing a thing about what to expect. I rode in the Fun category and actually finished 4th overall in the Elite category. I really enjoyed myself and was hooked.
5. What attracted you to riding cyclo cross and other off-road events?
I began riding off road because that is what the crowd I was hanging around with did. I spent a lot of time with the Macclesfield Wheelers, and I also enjoyed the challenge of riding off road. I also didn't really have a decent road bike, although I did get one for training on eventually.
6. Did you enjoy competing in other disciplines of cycle sport – time trials, road racing, track and what were your major achievements in these areas?
I did some local time trials when I was in the Ravensthorpe and indeed with the Stourbridge, but they would always be for training. Time trialing doesn't 'float my boat' I'm afraid, so would never ride them as a race, it was always training. The same can be said for the track and road racing. I had a couple of results in road races but I found it very frustrating. Women's racing used to be so negative, you'd try and break away and the bunch would drag you back then sit up. It is very different now thanks to the lottery funding, and the younger women coming through having a much more positive attitude. People want to be noticed now and have that chance to go onto greater things so it has made the racing a lot better.
7. What made you choose to specialise in Cyclo Cross?
I didn't make a decision to concentrate on cyclo cross until after I had retired from Mountain bike racing in 2002. I did ride cyclo cross during the winter, but again it was part of the bigger picture in terms of the summer MTB season. My Silver medal at the World Champs came off the back of a very intense winter preparing for the Olympic Games in Sydney. It was a big surprise as I thought I would not have the speed to race for 40 minutes and be at the sharp end of things.
8. You must have experimented in many different forms of training for each of the racing disciplines – which worked best for you and were you able to overlap training methods?
To be honest I didn't want to have to think about training programs. I had a coach to take care of that for me. We talked through things and it was very much a two way thing, but the detail was left to her. I was with Sue from about 1995 until after the Olympics in 2000. Isla actually sorted my training out after that.
9. How crucial to your successes in racing was your knowledge of bicycle engineering?
Being able to look after your own equipment is a great asset (it also saves you a lot of money!), but I have been very lucky in the respect that I have always been on teams with mechanics. When I was riding in the Stourbridge colors during Olympic year and since really, Isla has always looked after my bikes, sometimes to the detriment of her own bikes!
10 What motivated you to attain your achievements and how important was encouragement from friends and family?
I suppose my motivation was the achievement and the success that I attained with results (there was always the thought of having to go get a 9 to 5 job as well!) Motivation is a very personal thing. I needed a lot of encouragement at times, even to the point of someone else having to get me dressed in cycling kit to do a training session. To ride a bike at top level takes a lot of support and encouragement from a lot of people. Other times motivation wasn't a problem at all – if I was working towards a goal and my mind was focussed nothing would stand in my way. You have to be very selfish at times. One year my Mum had to delay Christmas dinner for the whole family because I was doing intervals on the turbo trainer in order to peak for the National Cyclo Cross Championships.
In 2013 Louise won the British Vets Ladies cyclo-cross championship and the British National Series, easily winning 5 of 6 races at the age of 47.