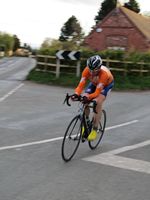 These are based on the K21/5 course starting near to "Blakelands" restaurant at Halfpenny Green/ Bobbington.
The event on 25th July will be the 11-mile circuit based on Six Ashes.
2017: Dates are as follows:
25th April, 9th May, 6th June, 4th July, 25th July
Start 7pm
£3 entry fee
The first 25 rides will be for SCC members, thereafter any other riders turning up. Note: the first event in April we will restrict numbers to the first 35 because of failing light.
Under 18's: please bring parental consent – document here. No consent, no ride.
Please park on the grass behind the car park to leave the main car park for pub customers.
The landlord of The Royal Oak would also appreciate selling a few drinks to our competitors in return for his generosity in allowing the use of his car park.
The normal cycle racing rules apply: obey the rules of the road, no swearing, bikes in good order etc.
Route
The route starts at the gate just before Blakelands restaurant, heading towards Halfpenny Green, continue past the Royal Oak pub then take a sharp left onto the B4176, take the second left then immediately left again at the Fabric Barn. Continue along this lane to the end where left again to repeat the lap. The finish is approximately 100 metres before the end of the lane approaching Halfpenny Green.
Start Six Ashes Road about 50 metres past the Halfpenny Green junction heading towards Bobbington
Keep on through Bobbington up the Six Ashes climb.
Turn left onto the A458 and continue through Enville until you reach the sharp left turn onto Chester Road
Second left into Highgate Lane
Keep on straight to finish about 200 metres before the Halfpenny Green junction.
SCC league positions will be the best 4 of 5 events.